572 people were arrested in Kenya during the month-long Interpol operation from October 1.
A statement from the Directorate of Criminal Investigations (DCI) released on Sunday (January 8) said the operation had been launched to tackle illegal, unreported and unregulated fishing in Kenya's internal waters and along the Kenyan coast.
According to a report on the operation launched by the Environmental Security Program and the Maritime Security Sub-Directorate of Interpol and coordinated at the national level by the Interpol National Central Bureau (BCN) based at DCI headquarters, l he use of illegal fishing gear and methods are the main factors that could cripple the lifeline of hundreds of thousands of people who depend on fishing.
Dubbed Ikatere, the overall objective of the operation was to monitor and combat illegal activities and took place between October 1 and October 31, 2021.
Some of the fishermen arrested being processed at the port of Kisumu in October 2021.
ICD
The report found that the illegal and unregistered activities were harming marine life and in some cases leading to conflict between Kenyans and their Ugandan counterparts.
"The report noted that the indiscriminate use of small seines intended for Omena finish, was the greatest threat to marine life, resulting in the destruction of fish breeding grounds, especially in Lake Victoria, Lake Naivasha and the Lamu Archipelago.
"This has, for example, led to a reduction in fish in Lake Victoria, leading to cross-border disputes between Ugandan and Kenyan fishermen who must scramble for the scarce resource," the statement read in part.
The report further notes that human trafficking also flourishes in the country's internal waters, particularly in Lake Turkana, where immigrants from Ethiopia illegally use fishing boats to travel to Kenya in search of more grazing land. green.
"The smuggling of goods has also become endemic, particularly in Lake Victoria and the coastal waters of Lamu where sugar, miraa, turtle meat and powdered milk are smuggled through criminals posing as fishermen.
"During the operation, a total of 572 arrests were made in targeted areas of the Indian Ocean and inland waters of Lake Victoria, Lake Turkana, Lake Naivasha and Lake Nakuru," the statement continued.
Along with the arrests, thousands of seizures of non-personalized merchandise, banned fishing gear and unregistered fishing vessels were seized.
The operation was conducted in a multi-agency context that brought together Kenyan law enforcement agencies including the National Police Service, the Kenya Coast Guard Service, the Kenya Maritime Authority and the Kenya Revenue Authority (KRA).
The others were the Department of Immigration Services, the Kenya Fisheries Service, the Kenya Wildlife Service, the National Environmental Management Authority and the Kenya Ports Authority.
It comes even as tension between Kenyan fishermen and their Ugandan counterparts continues to rage. In mid-December 2021, four Ugandans were arrested after harassing Kenyan fishermen.
The four were accused of having detained Kenyan fishermen and of having demanded 30,000 Ksh from each of them.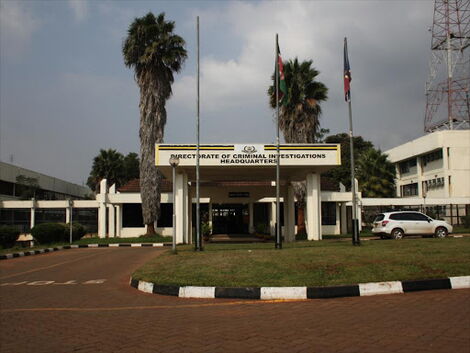 A file image of the DCI headquarters along the Kiambu road
Facebook
criminal harass armed Stop illegal armed