The government has changed its mind about the large number of Asian nationals who have been spotted in Kenya in recent weeks.
In a statement on Wednesday, September 29, Senior Home Secretary Karanja Kibicho explained videos circulating online showing large numbers of Asian nationals being transported to urban areas with suitcases after Kenyans asked for answers to the government.
Kibicho said the majority of those travelers were from Pakistan and held valid transit visas for Saudi Arabia issued upon arrival.
In addition, the PS admitted that over the past four months Kenya has seen an increase in the number of Asian nationals in transit.
Asians stranded in Nairobi
Twitter
The new statement came after a section of Kenyans poured cold water on a statement by government spokesman Cyrus Oguna on Monday, September 27, saying the Asian nationals were international tourists.
Kibicho then ordered a crackdown on foreign nationals who are in the country without proper documentation.
In a statement to editors, Kibicho said the crackdown will be carried out by the Immigration Department and the National Police Service.
The Home Office said the government will be strict in the future and limit the number of foreigners passing through the country.
He noted that the government was concerned about the number of Asians who are in or in transit through the country due to the ongoing Covid-19 pandemic.
"Subsequently, the government ordered an immediate crackdown on foreigners in the country without proper documentation. The exercise will be undertaken by the Immigration Ministry and the National Police," the statement said in part.
"Going forward, the government will limit the number of foreigners passing through the country to levels that do not pose a risk to Kenya's national interests," he continued.
Kenyans had questioned whether Asian nationals spotted at Jomo Kenyatta International Airport and an estate in Athi River were asylum seekers from Afghans fleeing the Taliban.
Oguna had claimed that people who arrived in Kenya in recent weeks had legal documents proving they were in the country on vacation.
"They are tourists in the country legally and some prefer to travel and stay with family," Oguna said.
The government clarified this after videos of Asians arriving in the country went viral, causing so much uproar on social media platforms, most of them questioning their mission.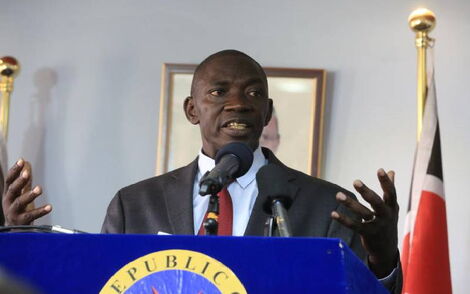 Government spokesperson Cyrus Oguna.
Twitter