The Kenya National Highways Authority (KeNHA) has given way on the lower Nairobi highway route after concerns were raised over its damage.
In an interview with Capital FMKeNHA's deputy director of corporate communications, Samwel Kumba, confirmed that repairs would be carried out on the lower road ahead of President Uhuru Kenyatta's planned launch.
He further added that any feeder roads damaged as part of the construction which started in mid-October 2019 would also be repaired.
His statement comes after concerns were raised by Kenyans who claimed sections of Mombasa Road, Uhuru Highway and Waiyaki Way had been damaged during construction.
File photo of the Nairobi highway currently under construction running from Mlolongo to the Westlands region
Courtesy
Specifically, road users argued that Mombasa Road had three lanes on each side with proper overpasses which have since been compromised.
"We had a 3-lane pair on each side of the highway. Please give us, we paid taxes for it. On each side of the highway, we had correctly made bridges", lamented a user.
Other complaints were about the lack of streetlights on the lower deck as well as the few walkways, which made crossing more difficult for pedestrians.
During the interview, Kumba further revealed that Moja Expressway will be responsible for the day-to-day management of the expressway once launched.
He also disclosed that during the 27 years of road management, China Road and Bridge Corporation (CRBC), which designed and built the road, would be responsible for its maintenance as well as its operation.
Moja Expressway is a subsidiary of CRBC.
Motorists prepare for the official opening of the Nairobi highway which runs from Mlolongo to James Gichuru Road in Westlands.
Kumba noted that they will have three modes of access to the highway, including an on-board unit (OBU) to be fitted to personal vehicles, which reduces the time required for entry and exit.
Other payment methods are cash or with a preloaded card. The 27 kilometer road project aims to reduce travel time between Mlolongo and Westlands.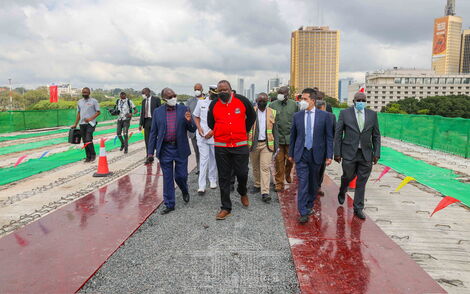 President Uhuru Kenyatta was accompanied by CS Infrastructure James Macharia and DG NMS Mohamed Badi to inspect the highway on December 23, 2021.
PSCU