Kenya has been named among the 13 countries that will dominate world trade by 2030.
In the Future of Trade 2030 A report released by Standard Chartered, a UK-based financial institution, indicated that Kenya is one of the countries that will be the main drivers of global export activity in the coming years.
Among the factors that put Kenya on the map was the country's progress in manufacturing in terms of the production of food, minerals and metals.
The report said government policies in the manufacturing sector had prompted companies to invest in the country. Manufacturing has been a pillar of President Uhuru Kenyatta's Big Four agenda.
President Uhuru Kenyatta attends the meeting between Ministry of Health officials and Moderna officials at State House on Monday, March 7, 2022.
State House of Kenya
According to the report, 10% of global companies have invested in the country's manufacturing sector or intend to start investing in the country by 2030.
"The Future of Trade identifies five trends shaping globalization, including wider adoption of sustainable and fair trade practices; a push towards more inclusive trade, with more people participating; greater risk diversification; more digitalization and an accelerated transition to emerging market growth.
"Kenya's Vision 2030 plan has targeted the manufacturing sector as one of the key drivers to support economic growth, job creation and export expansion. It focuses on developing the necessary infrastructure and investing in rail, road and port development projects," the report read.
The report estimates that Kenya would earn more than 1 trillion Kenyan shillings from its exports by 2030, with a forecast annual increase of 7.6% per year.
Additionally, the report identified Pakistan, Uganda and the United States as Kenya's top trading partners by 2030.
"Uganda and the United States will continue to be Kenya's main export corridors, accounting for 11% and 9% of total exports respectively in 2030.
"Pakistan is a fast-growing export corridor with an average growth of 10.7% per year from 2020 to 2030," the report reads in part.
Other countries on the list include Nigeria, China, Vietnam, South Korea, Singapore, Saudi Arabia, United Arab Emirates (UAE), Malaysia, India, Hong Kong, Bangladesh and India.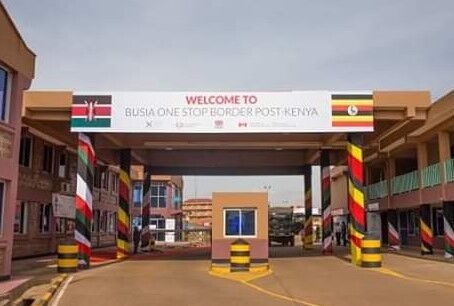 The Kenya-Uganda border post.
File