Kenya has raised concerns after the Republic of North Korea fired eight missiles using ballistic technology, threatening to start another war on the Korean Peninsula.
Speaking at the United Nations Security Council meeting on Friday, June 10, Ambassador Martin Kimani called on all member states to take immediate action to avert the impending crisis that could be unleashed by war.
Kimani explained that not all nations including Kenya are immune to the scourge of war as North Korea uses weapons of mass destruction.
Kimani noted that Kenya fears that the lack of diplomatic negotiations to resolve outstanding disagreements will only heighten tensions and invite disaster.
File photo of ballistic missiles fired by North Korea on the Korean Peninsula
Case
"The absence of diplomatic negotiations to resolve outstanding disagreements only heightens tensions and invites disaster. The Security Council must not stand still when the risks to the world are so clear and present," said Kimani.
To justify Kenya's call for immediate action to peacefully prevent North Korea from releasing more ballistic missiles, Kimani explained that the war between Ukraine and Russia is having adverse effects on the country. He noted that this has led to increased poverty and economic downturns.
Kimani noted that the war started by North Korea would further reduce the country's hope of recovering from the effects of the pandemic.
"This has added to the effects of climate change and the COVID-19 pandemic, plunging several million people into even deeper poverty. Everything must be done to prevent war from breaking out on the Korean Peninsula.
"In addition to the multiple crises we face, it would plunge the world into a major economic depression. And it would lead to large-scale suffering and death, especially in developing countries," Kimani reiterated.
He called on all member states to stand firm and take action to prevent more war from breaking out.
"We therefore call on the Security Council to assume its responsibilities and obligations to protect our common peace. Should there be any further missile launches or other actions that violate nuclear non-proliferation, the Council should take drastic measures," concluded Kimani.
The war in Ukraine has been blamed for inflation in Kenya and other countries. Commodity prices have peaked, affecting millions of households across the country.
President Uhuru Kenyatta, during Labor Day celebrations, also blamed the economic depression on the effects of the war in Ukraine, which he said was beyond his control. He thus called for a truce between them and Russia.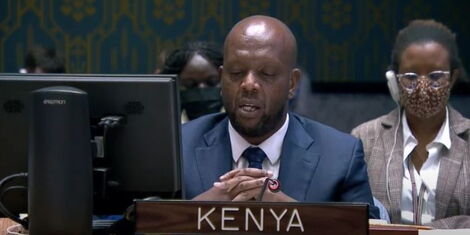 Kenya's Permanent Representative to the UN Ambassador Martin Kimani during a session at the UNSC on Monday evening February 28, 2022.
Courtesy
armed death Ukraine