Kenya Railways announced the resumption of commuter buses on January 3, 2022 with the aim of ensuring an efficient transport system.
According to a statement released by KR, Nairobi Commuter Rail buses will drop passengers off at Westlands, Yaya Center and Upper Hill upon arrival in the CBD in the morning.
For those taking the Westlands route, the trip will include key stops at Jeevanjee, Museum Hill, CFC Stanbic, Chiromo .. Westlands Bus Terminus (WBT), Brookside, Safaricom, ABSA, ABC Place and James Gichuru.
Commuter City Rail System buses unveiled by Nairobi Metropolitan Services (NMS) in 2020
Twitter
For those traveling the Upper Hill route, buses will pick up and drop off passengers at Meladin, Kenya Medical Association (KMA), CIC Insurance Offices, Britam, Teachers Service Commission (TSC) Offices, Kadhis Court, CBC, KASNEB , Kenyatta National Hospital (KNH).
While the Yaya Center itinerary involves pickups and drop-offs in Serena, Integrity Center, Chancellery, Maktaba Kuu, Nairobi Hospital, DOD, Hurlingham, Chaka Place, in the center of Yaya.
"Buses also pick up passengers from the same locations in the evening and drop them off at Nairobi Central Station as they board the train home," part of KR's statement read.
The commuter bus has been an affordable way for many passengers. Buses have also come in handy when the demand for trains is high and they are packed.
This was evident on Christmas Eve when the company chose to use the buses to transport hundreds of passengers who found themselves stranded after arriving at Nairobi-Nanyuki station.
It was after the road was totally exhausted even as Kenyans were heading to various destinations for the festivities. The passengers were charged the same amount as the train. According to the train price schedule, Kenya Railways charges 200 Ksh for economy class from Nairobi to Nanyuki.
The company said the rail service would still operate after Christmas Day to allow Kenyans to return to town.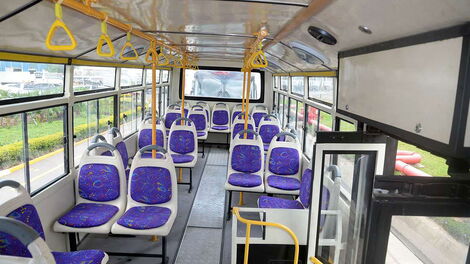 Inside a commuter bus in Nairobi
Twitter