A Kenyan managing director (CEO) is among the top three finalists for billionaire Jack Ma's Africa's Business Heroes (ABH) award.
Enda Sportswear CEO Navalayo Osembo placed third in one of Africa's biggest and most prestigious start-up competitions, sponsored by the Chinese tycoon.
The main objective of the competition is to support and inspire the next generation of African entrepreneurs in all sectors.
Osembo and the 10 other finalists will share 169 million Ksh ($ 1.5 million) in grants that have been set aside for the competition.
An image of athletic shoes manufactured by Enda Sportswear.
Twitter
While appreciating the recognition, Osembo noted that the competition has allowed his business to grow and establish new networks in different industries.
"Recognition among the top 3 finalists of African Business Heroes validates the growth and impact of the brand," said Osembo.
She added, "The competition opened up new networks for Enda that will help establish a strong supply chain in China and Africa, including building the capacity of local plant staff.
His company Enda deals with world-class running shoes. Her dream of starting the business was sparked by her childhood experience where she saw athletes training without quality running shoes.
To maximize the social impact through sport, she founded the Made in Kenya running shoe brand which creates jobs, invests in local communities, drives economic growth and contributes to the country's development.
The idea to create the company germinated in 2015, but materialized two years later, in 2017. With its co-founder Weldon Kennedy, they raised 12.9 million Ksh ($ 120,000) that they used to create Enda-Sportswear.
His company has successfully brought together world-class shoe designers, developers and Kenyan athletes to create performance shoes.
Prior to entering the Jack Ma Global Competition, she was a cohort of Creative DNA, a program of the British Council's East African Arts.
The program aimed to financially support young entrepreneurs and future entrepreneurs, helping them to develop skills, knowledge and networks in Kenya as well as the UK.
Besides running the business, Osembo is a lawyer and accountant by training, with experience in risk management, results-based management and drafting.
She graduated from the London School of Economics.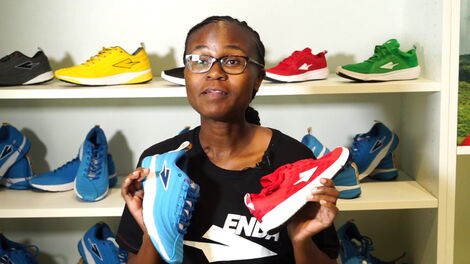 Osembo Navalayo, CEO of Enda Sportswear, holding some of his shoe brands
To file